How can ONE gift be PERFECT for everyone?
Author: Gifted from the Heart Date Posted:16 June 2019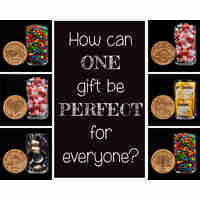 A simple two step guide to the PERFECT gift ! How can one gift be equally as special and suitable for a 7 year old boy, a soccer coach or a 70 year old Grandma?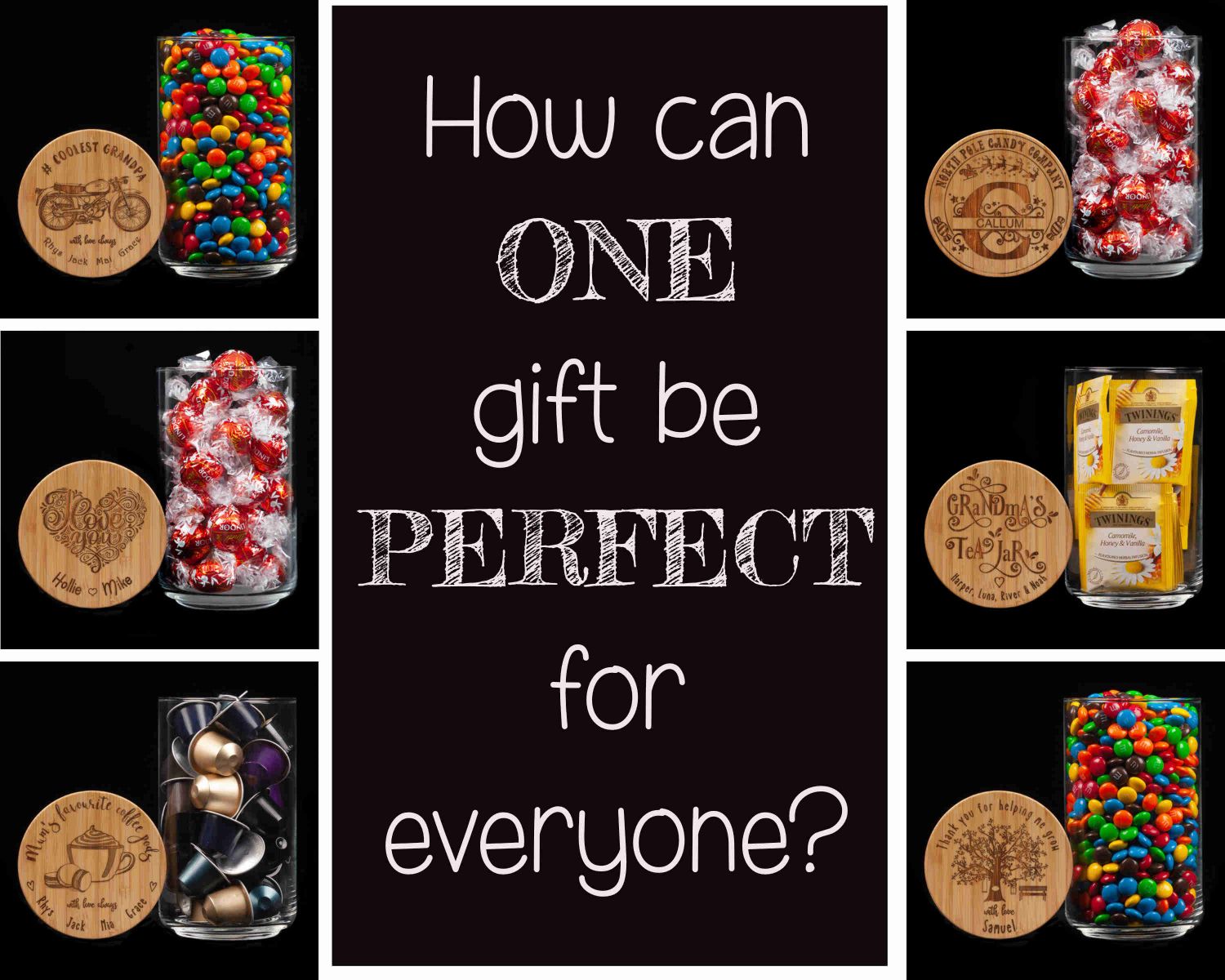 Is there just one PERFECT gift for every person in your circle of family and friends?
Sounds ridiculous right? How could a gift suitable for a 10 year old boy be equally as suitable for a 70 year old Grandma?
Well, to let you in on a little secret our one perfect gift is actually countless variations on the theme of a single item!
We will guide you here in a few short paragraphs to the most perfect personalized customized gifts for Christmas, birthdays, Father's Day or any occasion throughout the year.
We live in a fast paced, instant-gratification worl where we are surrounded everywhere by mass produced ready made items – mostly fresh from China.
These items are nice they don't often spark a warm and fuzzy feeling from the recipient in the way a thoughtful, personalized gift filled with their favourite goodies would.
So let's just take a moment to explore what makes a perfect gift?
A perfect gift is something that the person receiving the gift will appreciate because they either want the item , need the item or will use the gift item.
It is something that shows that the person giving the gift has intimate knowledge of what the recipient likes and has taken the time to consider the recipient. Eg Aunty May really loves musksticks so filling a gift jar with her favourite lolly is really thoughtful, or that Mum's favourite coffee pod is the Nespresso Arpeggio and so receiving a jar filled with that particular pod is really meaningful
STEP 1
Personalization is really just starting to be readily available in Australia and having a gift personalized is what takes your thoughtful gift to the next level in terms of the perfect gift.
It helps to make a real connection between the gift giver and the recipient.
So the first step is personalizing your choice of gift.
We all know that we can go to any of the big retailers and buy mass produced – straight out of China items that will serve the same purpose. Kmart has loads of coffee storage jars for example. If I was receiving a storage jar for my coffee I would LOVE one with my name that has been specially chosen and produced just for me!
That would make me feel extra special and appreciated, and the thoughtfulness behind the gift would be very much appreciated.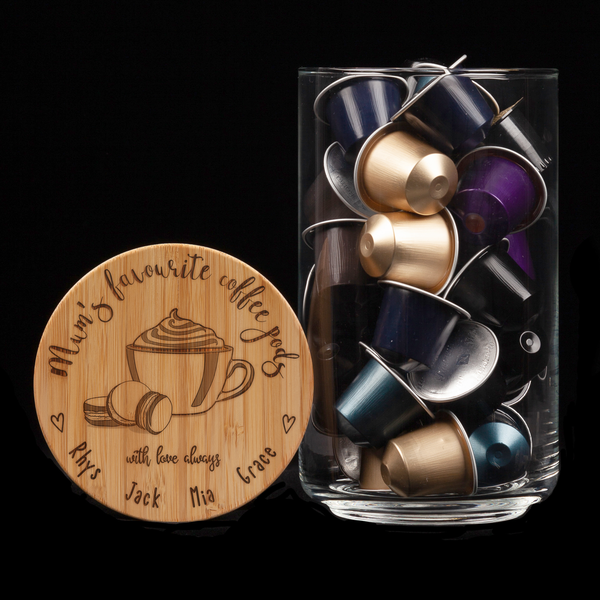 STEP 2
Thenext step of the PERFECT GIFT puzzle falls into place when you use your knowledge of the recipient to fill their Personalised Gift Jar with goodies that they love!
I can imagine right now you may be thinking , wow, I am really not sure what lolly Uncle James' likes….don't despair…make a few discrete enquiries and not only do you produce the perfect gift but you also get to know something more about the person you are buying for ! Win/win- they get a perfect gift, you get to strengthen your relationship by learning more about the other person and not to forget you get the Kudos for being an AWESOME gift giver!
So without further delay, what is our must have PERSONALISED gift item?
We have over 200 personalised designs available on our website.
However we know that for a truly unique gift you might want further customization so we have a Design Your Own Jar option as well which gives endless possibilities for you to create the perfect bespoke gift!
So how can we help guide you through some of the Personalised gift jar options available?
Let's start with some category of gifts.
Teacher Appreciation gifts
Our range of personalized jars come ready for you to fill with Home Baking, or the teacher's favourite chocolates.
Maybe take a different approach and fill it with reward stickers or reward stamps that the teacher can keep on his/her desk and use all year long.
What a perfect way for your child to be remembered long after they have left the classroom and grown into the school years ahead. So many creative options !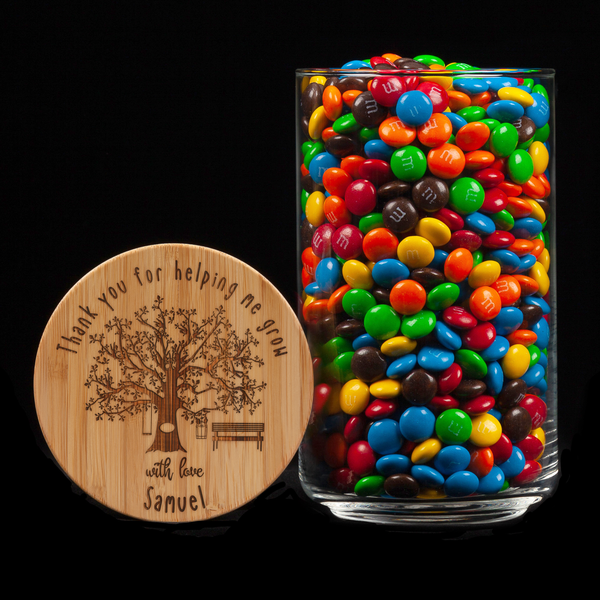 Grandma Gifts
Does your Gran, Nanny , Ma or Grandma have a favourite blend of tea?
Imagine her delight each and every time she makes a cup of tea and reaches for your gift of a personalized tea jar with your names and her favourite tea inside.
A daily reminder of the special bond you share.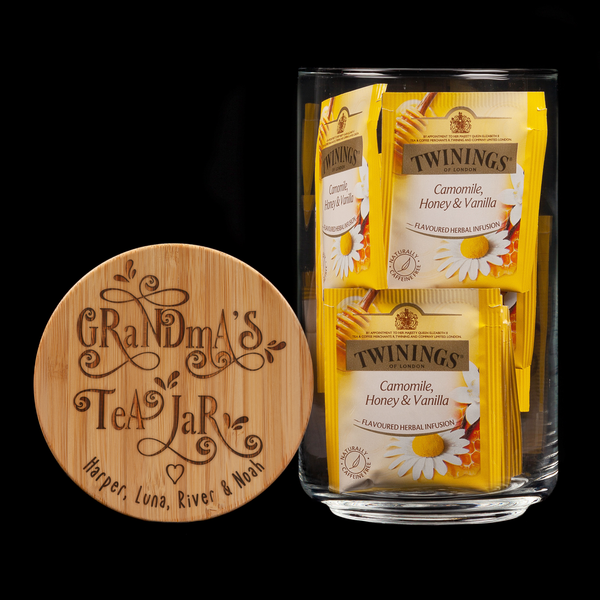 Children Monogram jars
Our kids LOVE their Monogram Easter and Christmas Jars.
They use these every year and they have become such a special part of our celebration rituals and I am sure will be a cherished memory of their childhood in the years ahead.
We get creative in what we put inside to keep it fresh and exciting every year.
You can of course fill it with seasonal Lollies/ candy such as candy canes or maybe arts and crafts items , stamps or stickers.
Maybe fill it with cute gift tags and help them write little messages to the family.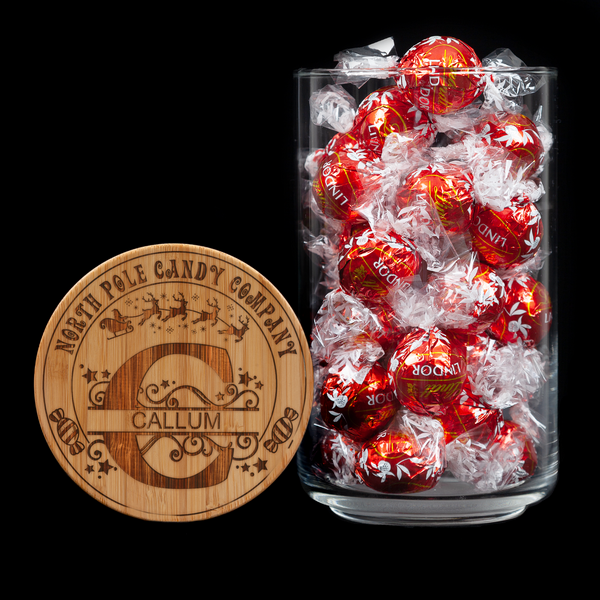 Grandpa Gifts
It gets increasingly difficult to gift older men in the family.
They have often moved beyond having particular needs and to be honest if they really want something they can buy it for themselves- like most adults I guess.
Our personalized gift jars allow you to gift consumables such as their favourite Lollies or sweets.
The inspiration for our # Coolest Grandpa lolly jar came from the fact that my kids Grandad used to be a keen motorcyclist when he was younger and now suffering from dementia it is a lovely reminder of something that meant so much to him years ago- and brings back happy memories.
It is great to see his face light up each time he reaches for the jar.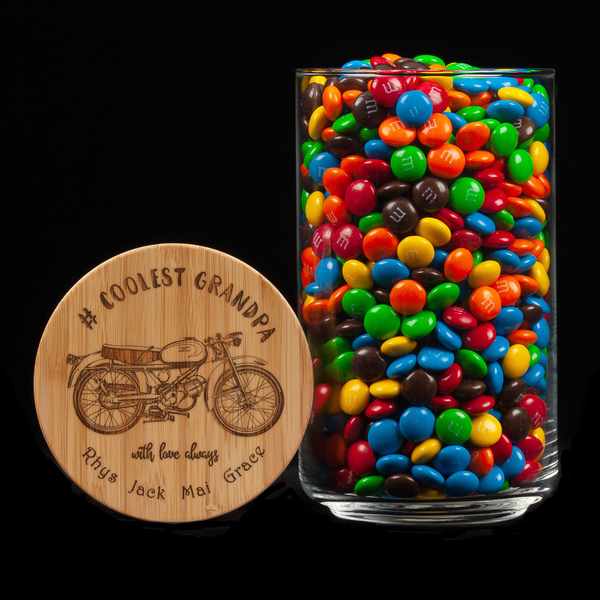 Dad Gifts
Maybe Dad enjoys a beer and so you can combine the need for a spare change jar with his beer enjoyment and gift him a beer bank!
Just add your names and throw in a few dollars or a gift card from your local bottle shop to get him on his way.
Alternatively gift him a beer nuts jar so as it can always be filled and ready when he cracks open an ice cold brew!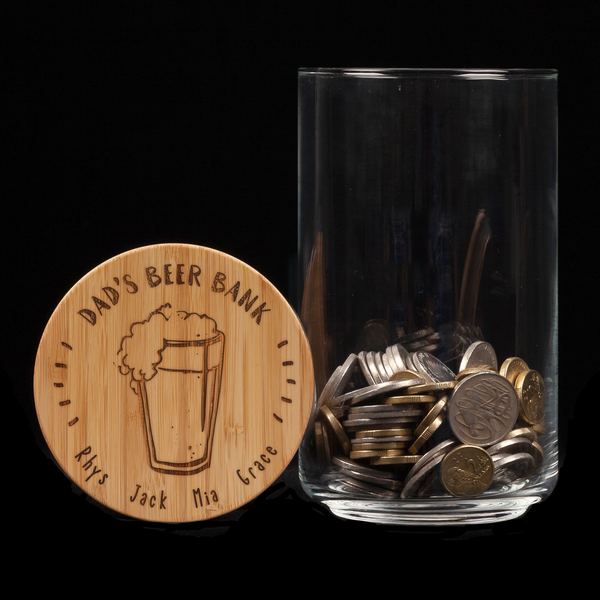 Mum Gifts
Reward your Mum by recognizing her passions.
Does she have a passion for travel or shoes? Is she an artist and in need of some new supplies?
Does she have a favourite coffee that gives her a few quiet moments in her busy day?
Show her how much you love and appreciate her with a thoughful jar filled with LOVE!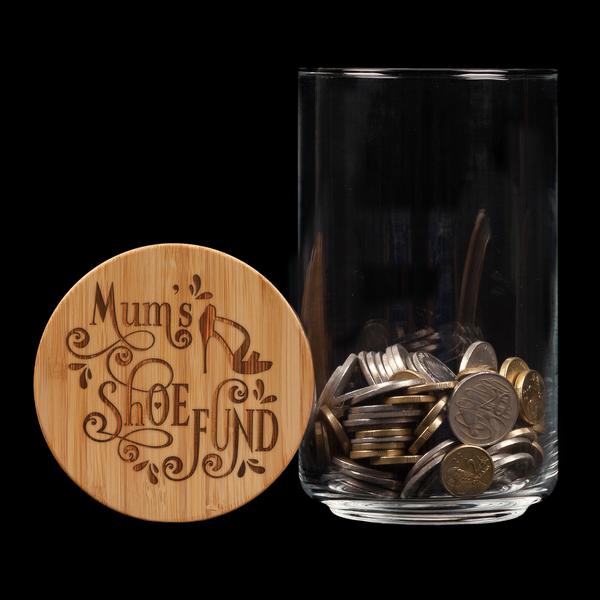 Couple gifts
Let's face it trying to think of a suitable and thoughtful gift for a couple can be challenging- especially if they are two very different personalities!
We have a number of designs suitable to gift to couples for engagement, wedding or anniversary gifts.
This will be a cherished gift and special reminder of their relationship beginnings as the years go by.
Just fill with luxury brand chocolates that they can share whilst snuggled up on the couch! Couple bliss!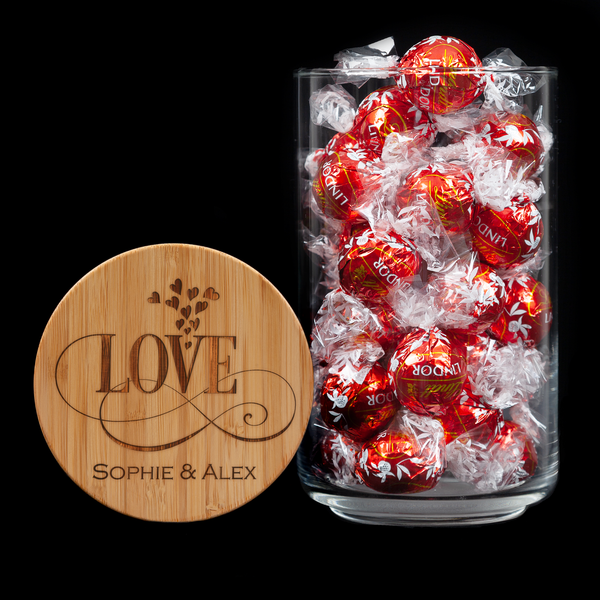 Family Gifts
We have special family friends and we exchange gifts each Christmas.
Gifting families can be tricky because a bottle of wine whilst suitable for the parents will not be suitable for their teenage kids (Obviously )!
A personalized gift jar filled with treats they can all enjoy is a much better option!
It can be used and re-used and will be a lovely reminder of your friendship.
You can even customize by going with gluten free baking inside or nut free items if a member of their family has food allergies and sensitivities- extra thoughtful!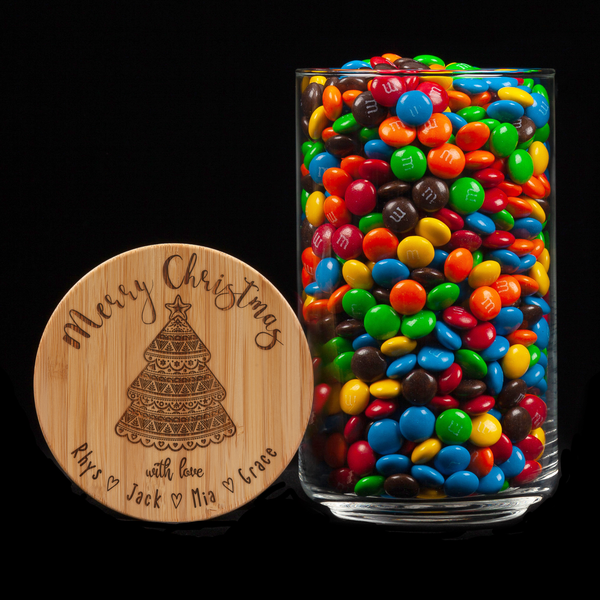 Coaching Thank you Gifts
The end of the sport and dance season comes around quickly!
What better way to reward you coach and teachers for the amount of time they generously give to helping the child and team grow and improve?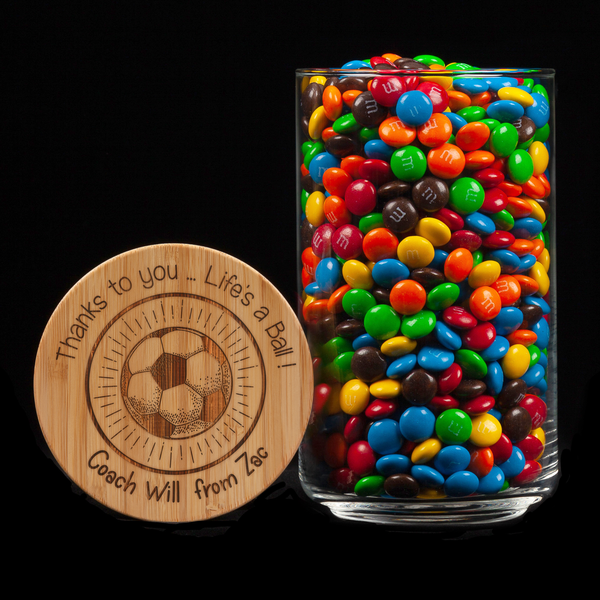 What is the CUSTOM DESIGN and how does that work?
Our design your own jar option means you work with our design team to fully control the design you would like. eg Can you please do a unicorn design with the text Happy 18th birthday Maya. Yes we can indeed. One jar we designed just recently was a savings fund for a Grandad's local hardware store from the grandkids for him to collect his spare change......The possibilities are ENDLESS!
The number of combinations for themes and personalization is limitless and so we will leave it up to your imagination and creativity to come up with a unique and cherished one-stop gift!
---
Leave a comment