How to Make the Perfect Personalised Teacher Gift Jar
Author: Gifted from the Heart Date Posted:22 September 2023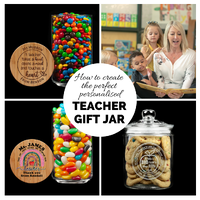 Personalised Teacher Lolly Jar Our timely blog post will help you say thank you and choose the perfect teacher's gift by sharing ideas for personalised lolly and cookie jars for your child's teacher.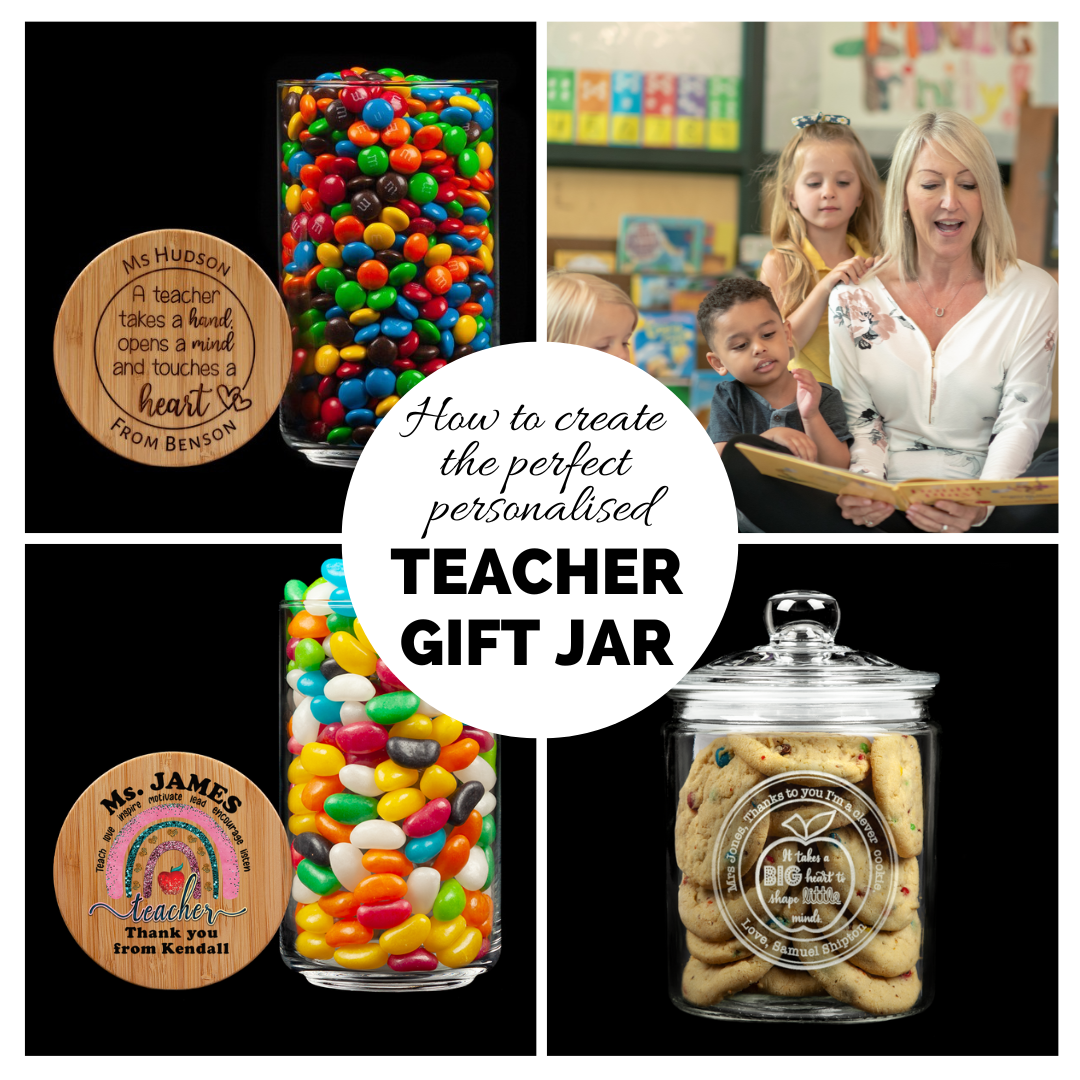 Personalized lolly jars and cookie jars are a thoughtful gift and the "sweetest" way to show appreciation to your child's teacher as the school year nears its end.
Here are some steps we can help you to create the perfect personalized gift:-
Choose the Jars design. Select a jar size and shape to suit what you would like to fill it with and then opt for laser engraved or UV printed designs. We have 100's of designs available. Rest assured all of our jars have a secure lid to keep the contents fresh. Shop our huge range today.

Add your personalisation. You can personalize the jars with the teacher's name or a heartfelt message. Add your child's name, the class or year group!

Fill the Jars: Fill the jars with a selection of the teacher's favourite lollies, coffee pods or homemade cookies. You can even include a mix of different treats to add variety.

Include a Thank You Note: Have your child write a heartfelt thank-you note expressing their gratitude for the teacher's hard work and dedication. Place the note inside the jar or attach it to the outside with a ribbon or a small card.

Present the Gift: Watch your child's face light up as the hand-deliver the personalized jar to the teacher. Teachers will likely appreciate the effort you put into creating a custom gift just for them.

Consider Allergies and Preferences: If you are aware of any food allergies or dietary preferences the teacher may have, make sure to choose treats that are suitable for them. It shows that you've considered their well-being.

Involve the Class: If you're making these gifts on behalf of the entire class, consider involving the students in the process. They could help by writing personalized notes, making the gift even more meaningful. One of our Cookie jars would look great packaged up with a box of Christmas treats to fill it up and a note from each child.
Remember, it's the thoughtfulness that counts the most. Personalized gifts show that you've taken the time to consider the teacher's preferences and create something unique for them. Teachers will cherish the gesture and feel appreciated for their hard work in helping your child develop this year.
We make the process so simple to save you time and money in delivering a meaningful gift at budget friendly prices!
Browse Australia's LARGEST personalised gift jar range today! You can choose from our hundred's of designs or even have our design team help you to design your own.
---
Leave a comment