How to use and Care for Mylar Stencils
Author: Gifted From The Heart Date Posted:14 October 2018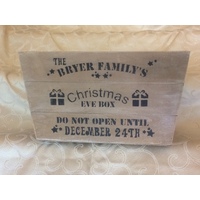 Mylar stencils are a wonderful DIY tool.
You can easily use mylar stencils to add your own personal touch to make a fun hack for use around your own home or to gift to others.
It really is so easy a child could do it.
To make sure you get the very best results though there are a few important steps that will help you achieve your results first time around.
You can choose whether to use your stencil with texta marker, ink or paint.
As paint is probably the most popular option and faster than using markers to colour the design some helpful tips are included here.
Firmly adhere the stencil to your chosen piece in the desired position.
Use masking tape along all edges but it is also an idea to use a repositionable spray adhesive as this will prevent the paint from bleeding under the stencil and it will give you a sharper outline to your finished stenciled design.
If there are sections of the design you don't wish to paint or you'd like to colour later with a different colour simply mask over those sections using masking tape to prevent that area from being sponged.
Using a dabber foam brush load a tiny amount of acrylic paint then blot most of the paint off again so as the brush is almost dry. It is important to use a fairly dry brush and build up the density using multiple layers rather than a heavily loaded brush/sponge as this allows the excess paint to bleed between the stencil and the item being embellished.
I don't suggest using a foam roller brush because although they seem like they would be fast and easy, the side to side motion encourages paint to bleed under the stencil and smudge your design and they also hold too much paint and it is very difficult to get the dry brush effect to work.
Use an up and down motion with your sponge/ dabber not a side to side motion.
Once the desired density of paint is achieved remove the stencil without delay.
Take care not to touch the wet design until it is completely dry.
Different colours of paint can be used in different areas of your design. Let your creativity run wild!
If you'd like a rustic finish lightly sand over the design once it has completely dried then wipe with a damp cloth.
Wash your stencil in warm soapy water and allow to dry completely .
---
Leave a comment