In loving Memory...special ways to honour a loved one
Author: Gifted from the Heart Date Posted:13 May 2021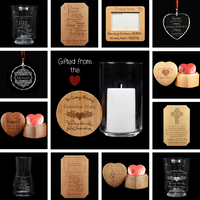 In loving memory ... Special ways to honour a loved one
Losing a close family member or dear friend is an incredibly difficult experience that we all face at some time in our lives.
Cherishing special memories of your loved one is one way to ease the pain of loss.
Memories can be associated with all our 5 senses and so the way in which you choose to honour the memory will guide the type of keepsake or memorial you choose.
Whether you are searching for a keepsake for yourself or a gift for someone who is suffering a loss have a browse of the following ideas.
Audio Keepsakes – listen to their voice
Hearing your loved one's voice after they have passed creates a powerful connection and brings comfort as this can help to bring them back into the room all around you.
The Gifted from the Heart audio keepsake range allows you to transfer 60 seconds of audio onto the sound module and this audio can be replayed an unlimited number of times whenever you choose.
It is permanently transferred onto the device and therefore even when the batteries are changed the recording remains.
Each audio module is enclosed in a solid timber laser engraved personalised box and is available in a choice of timbers- maple, walnut or cherry wood.
Visual keepsakes – Display a photograph
We almost always have a cherished photograph of our loved one and this is perfect way to use our visual sense to connect with our memories of that person.
Our large range of personalised laser engraved alder wood timber photograph frames is a beautifully elegant way to display your cherished photograph .
Scent keepsakes – Light a candle
Our sense of smell is another powerful connection to those who have passed. Often we remember our grandmother by notes in her perfume eg lavender, rose or vanilla . Our beautifully personalised laser engraved hurricane lantern will allow you to light a candle in honour of your loved one. You can choose to light an unscented candle or one which has aromas which stimulate your memory and remind you of the special person.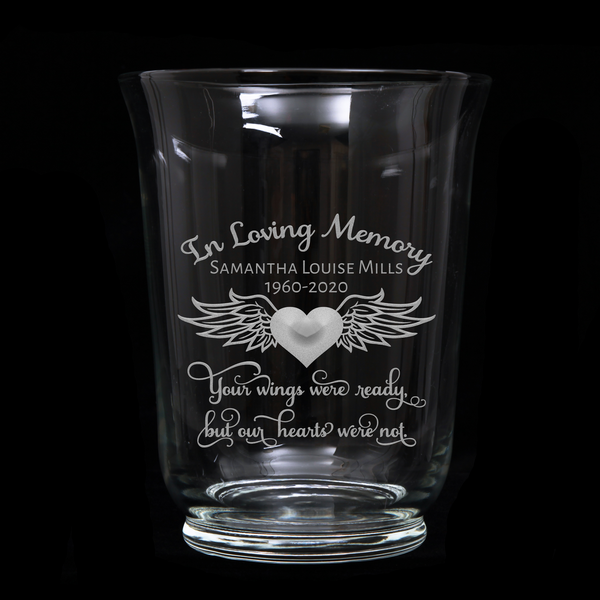 Scent keepsakes – their favourite flowers
Another way to connect with those memories are to display a vase of their favourite beautiful fresh flowers in a personalised keepsake vase. This brings beauty and nature into your space and is a lovely way to remind you of special things about your loved one and the connection you share.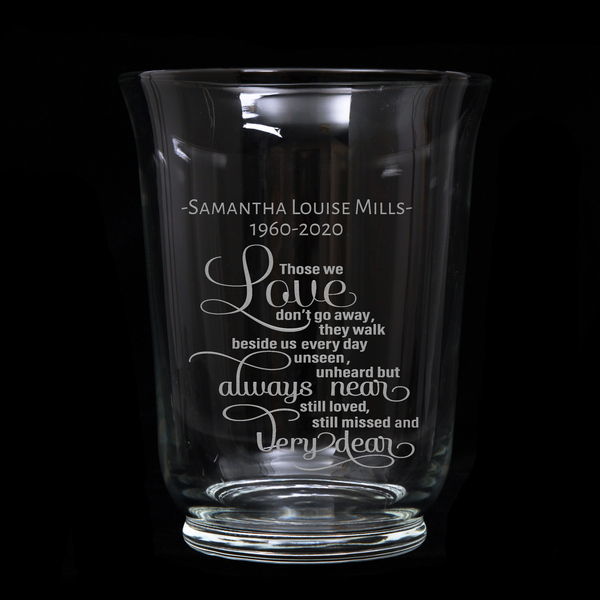 Taste keepsakes – Their favourite treats
It is amazing how much we really know about our loved ones and we sometimes don't really appreciate the value of small insights until we no longer have that person around. My Dad was a proud Scot and one of his favourite treats was fresh baked shortbread. Keeping a lovely personalised treat jar nearby filled with his or her favourite treats is another lovely reminder of one of the many special things we loved about him.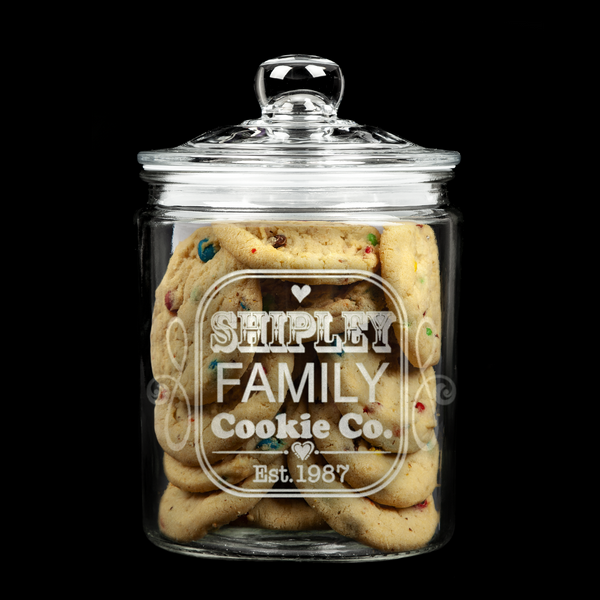 Touch keepsakes- Their clothes reinvented
Some amazing companies take a piece of clothing from a loved one and can shape it into a lovely tactile keepsake- eg a loved ones flannel shirt becomes a soft teddy bear. This allows that tactile connection to be reinforced by keeping the cherished clothing nearby in a useful and decorative and very tangible way .
Next time you are looking for a special remembrance or keepsake after a loss ponder the sense you most connect with and browse our memorial In Loving Memory keepsakes.
---
Leave a comment